Applications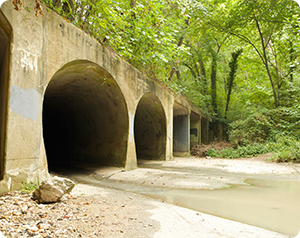 UV Disinfection for Wastewater
Many municipal wastewater treatment plants have adopted UV disinfection treatment over chemical chlorine disinfection - as UV is safe, environmentally friendly and cost-effective.
From small rural communities to large municipalities like New York City, TrojanUV has effective UV disinfection solutions to meet the challenge. Trojan's success is evident with over 10,000 municipal UV disinfection facilities treating over 41 billion gallons of water per day – the largest installed base of UV systems in the world.
About UV Disinfection
UV disinfection is a physical process that instantaneously neutralizes microorganisms as they pass by ultraviolet lamps submerged in the effluent. The process adds nothing to the water but UV light, and therefore, has no impact on the chemical composition or the dissolved oxygen content of the water.
Advantages of UV for Municipal Wastewater Treatment
Proven Technology, Environmentally Friendly, Safe
The adoption of ultraviolet light for wastewater disinfection has grown significantly over the past few decades. Thousands of municipalities have converted from chemical-based disinfection, such as chlorine gas, to UV due to the significant safety advantages for their communities, plant employees and local water bodies.
As new wastewater treatment plants are constructed around the world, UV is most often selected for disinfection because of the cost savings in both initial construction and long-term operation.
Cost-Effective, Works Against Cryptosporidium and Giardia, Field-Tested
UV is the only cost-effective disinfection alternative that does not have the potential to create or release carcinogenic by-products into the environment. In addition, UV is an effective disinfectant for chlorine-resistant protozoa like Cryptosporidium and Giardia.
While unregulated in wastewater, these harmful protozoa, if left untreated, can find their way into drinking water intakes located downstream of the wastewater treatment plant. Our UV disinfection systems have undergone field-testing and third-party witnessed bioassay validation testing to ensure the UV system will meet regulatory requirements.
Chlorine Disinfection vs. UV Disinfection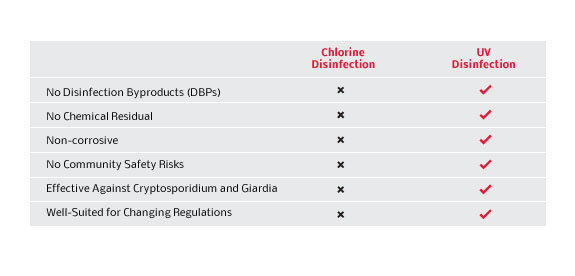 Other TrojanUV Wastewater Applications

Find out More
Contact us at +1 (888) 220-6118, or
email us
today.
---
TrojanUV3000PTP

A cost-effective, off-the-shelf solution for UV disinfection at small wastewater plants. It's simple to install and operate, and provides a hassle-free, dependable UV solution.

TrojanUV3000B

An operator-friendly, economical UV disinfection for small wastewater treatment plants.

TrojanUV3000Plus

Designed for medium to large wastewater treatment plants and features the patented ActiClean Cleaning System, an automatic chemical/mechanical wiping system.

TrojanUV4000Plus

The TrojanUV4000Plus™ is the first commercially-successful, medium-pressure UV lamp system that's specifically designed for handling high volume and low-quality wastewater.

TrojanUVFit

Depending on site and design conditions, wastewater treatment plants producing filtered effluent sometimes prefer a disinfection solution using closed-vessel or pressurized UV reactors.

TrojanUVSigna

TrojanUVSigna™ incorporates innovations, including TrojanUV Solo Lamp™ Technology, to reduce the total cost of ownership and drastically simplify operation and maintenance. It is an ideal solution for wastewater treatment...

TrojanUVFlex for Wastewater

Utilizing revolutionary TrojanUV Solo Lamp™ Technology, the TrojanUVFlex™ provides energy-efficient UV disinfection for modern wastewater reuse challenges.
Secondary & Tertiary Effluent UV Disinfection

The vast majority of wastewater treatment plants around the world provide secondary treatment through conventional activated sludge processes. Some plants have tertiary treatment processes that use an additional filtration process to further...

Chlorine Conversion to UV Disinfection

Chlorine gas has traditionally been used for wastewater disinfection for many years. Sodium hypochlorite (liquid bleach) is an alternative to chlorine gas; however, it is more costly and has the same environmental concerns.

Water Reuse with Ultraviolet Disinfection

The advanced treatment and reuse of wastewater (also called water reclamation), is becoming increasingly common as municipalities address high water demands and shrinking supplies.

Low Quality Water Ultraviolet Disinfection

UV disinfection has been proven effective in challenging applications such as combined sewer overflows (CSO), storm and sanitary sewer overflows (SSO), blended effluents as well as disinfection of primary-treated wastewater.
Wastewater
Drinking Water
Environmental Contaminant Treatment
How can we help you today?
Customer Support
Product Support
We maintain a global network of service professionals ready to offer assistance for your service needs. ...
Find a Service Representative