Parts & Services
/
Genuine Parts Warranty Claims
We are proud to offer industry-leading warranties on our lamps, lamp drivers and UV sensors.
To make a claim, simply fill out the warranty claim form below for your product and email it to:
For customers in North America:
na.warranty@trojanuv.com
For customers outside of North America:
international.warranties@trojanuv.com
Warranty Claim Form – Closed-vessel Systems
Includes TrojanUVSwift, TrojanUVSwiftSC, TrojanUVSwiftECT, TrojanUVTelos, TrojanUVFit, TrojanUVPhox, TrojanUVFlex, TrojanUVTorrent and TrojanUVTorrentECT.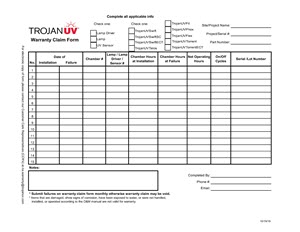 Warranty Claim Form – Open Channel Systems
Includes TrojanUV3000PTP, TrojanUV3000B, TrojanUV3000, TrojanUV3000Plus, TrojanUV4000, TrojanUV4000Plus, TrojanUVSigna and TrojanUVSonus.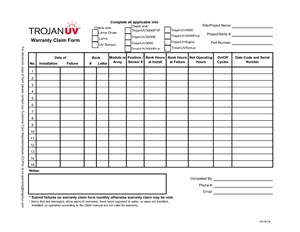 Genuine Parts
Product Support
Research & Development