Parts & Services
/
Genuine Parts Warranty Claims
We are proud to offer comprehensive warranties on our UV lamps, lamp drivers (ballasts) and UV sensors.
To check your warranty eligibility, simply fill out the claim form for your product and email it to:
For customers in North America:
na.warranty@trojanuv.com
For customers outside of North America:
international.warranties@trojanuv.com
Warranty Claim Form – Closed-vessel Systems
Includes TrojanUVSwift, TrojanUVSwiftSC, TrojanUVSwiftECT, TrojanUVTelos, TrojanUVFit, TrojanUVPhox, TrojanUVFlex, TrojanUVTorrent and TrojanUVTorrentECT.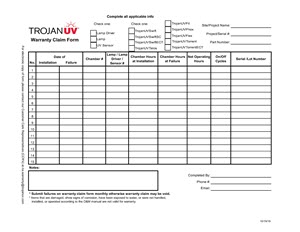 Warranty Claim Form – Open Channel Systems
Includes TrojanUV3000PTP, TrojanUV3000B, TrojanUV3000, TrojanUV3000Plus, TrojanUV4000, TrojanUV4000Plus, TrojanUVSigna and TrojanUVSonus.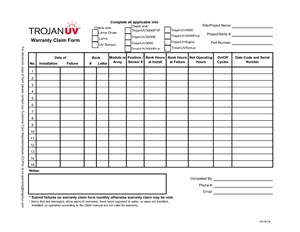 Genuine Parts
Product Support
Research & Development