Products
UV Systems for Drinking Water
The treatment of drinking water is vital to protecting public health. When municipalities install UV systems, the water supply is protected from chlorine-resistant microorganisms like Cryptosporidium and Giardia. UV disinfection can also be used as a virus barrier against Adenovirus, and in a multi-barrier strategy to provide confidence in the water supply.
TrojanUV Drinking Water Treatment Systems
Validated Drinking Water Solutions
Whether the project requires DVGW or USEPA UVDGM (Ultraviolet Disinfection Guidance Manual, 2006) validation, Trojan has validated solutions for drinking water treatment. Our products range from small UV systems for small communities to large municipal water treatment plants including the world's largest UV facility treating the water for New York City.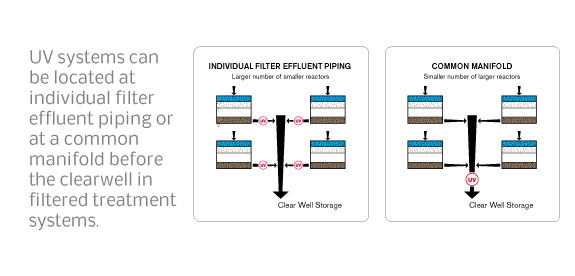 The location of the UV system in filtered systems can either be downstream of individual filter effluent piping (taking advantage of existing piping and valving) or downstream on a common manifold (lowering UV equipment cost). UV systems can also be installed downstream of the clearwell, before or after a storage reservoir in unfiltered systems, or at each well for groundwater systems. With a broad range of models and reactor sizes, Trojan has the right solutions for any piping arrangement.
Find out More
Contact us at +1 (888) 220-6118, or email us today.
---
TrojanUVFlex for Drinking Water

Utilizing revolutionary TrojanUV Solo Lamp™ Technology, the TrojanUVFlex™ provides municipalities with energy-efficient UV disinfection for their drinking water in an extremely compact footprint.

TrojanUVSwiftSC

The TrojanUVSwift™SC is a validated, compact UV system that offers communities an economical solution for drinking water disinfection.

TrojanUVSwift

The TrojanUVSwift™ offers proven performance against waterborne pathogens including viruses, bacteria and protozoa. Our advanced systems meet disinfection targets with unsurpassed reliability with no known disinfection by-products.

TrojanUVTelos

An ideal solution for system upgrades and replacement of inefficient, aging UV systems and alternative disinfection equipment.

TrojanUVTorrent

Reducing maintenance requirements and costs while incorporating the most efficient technologies available, the TrojanUVTorrent™ leads the way for large-scale drinking water disinfection.
UV Water Treatment - Cryptosporidium Barrier

Cryptosporidium is a harmful protozoa that can cause severe illness and even death in some individuals. Fortunately, this chlorine-resistant parasite can be easily inactivated with a low UV dose.


UV Water Treatment - Giardia Barrier

Giardia can be found worldwide and is one of the most common waterborne parasites. Low UV doses can inactivate Giardia without forming disinfection by-products.


UV Water Treatment - Virus Barrier

There are a variety of viruses that may be present in water that, if not treated, may present a health risk to consumers. Examples include adenovirus, rotavirus, poliovirus, and coxsackievirus.

UV Water Treatment - Primary Disinfection

By employing UV as the primary disinfectant, the required chemical contact time can be reduced or eliminated (dependant upon local regulations).

UV Water Treatment - Multi-Barrier Strategy

UV is a perfect fit as an additional barrier in a multi-barrier strategy to provide additional public safety.
Wastewater
Drinking Water
Environmental Contaminant Treatment
How can we help you today?
Customer Support
Product Support
We maintain a global network of service professionals ready to offer assistance for your service needs. ...
Find a Service Representative