Products
/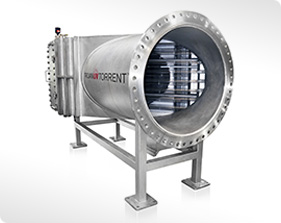 [+]
TrojanUVTorrent
Reducing maintenance requirements and costs while incorporating the most efficient technologies available, the TrojanUVTorrent™ leads the way for large-scale drinking water disinfection.
The TrojanUV Solo Lamp™ stands alone in offering the advantages of both existing medium-pressure and low-pressure high output lamp technologies. Incorporated into the TrojanUVTorrent™, the advantages become clear – lower life cycle costs, easy maintenance and reduced environmental impact.

TrojanUVTorrent™ Video Overview
TrojanUV Solo Lamp™ Technology
Common Replacement Parts for the TrojanUVTorrent
Lamps
Quartz Sleeves
Lamp Drivers (Ballast)
---
Revolutionary Lamp Technology
This revolutionary lamp technology offers very high UV output without compromising electrical efficiency or space requirements. TrojanUV Solo Lamp™ systems combine the benefits of other lamp technologies – the low lamp count of medium-pressure systems with the high electrical efficiency of low-pressure systems. The result is a compact, cost-effective installation that is easy and quick to maintain.
Low Total Cost of Ownership
With less lamps and higher electrical efficiency compared to traditional UV systems, the TrojanUVTorrent™ benefits from a lower cost of operation in terms of lamp maintenance and energy consumption. Furthermore, installation requirements are reduced from a smaller system footprint and less electrical connections - resulting in low overall life cycle costs.
Delivering Sustainability through UV
By using fewer and more efficient lamps, the carbon footprint associated with TrojanUVTorrent™ is reduced to less than 1/3 that of medium pressure lamp systems. The increased efficiency of the Solo Lamp™ translates into a significant reduction in energy, peak electrical loads, and associated electrical infrastructure.
Installation Flexibility
The TrojanUVTorrent™ chambers can be installed vertically or horizontally, making it simple to integrate into plant designs. Its low headloss configuration and sophisticated controls enable cost-effective disinfection of a wide range of flow rates.

ActiClean™ Dual-Action Automatic Cleaning System
ActiClean™ provides on-line sleeve cleaning automatically while the system is disinfecting – eliminating the need to take the system off-line for regular manual cleaning. The combination of food-grade cleaning gel and mechanical action removes deposits on sleeves much more effectively than mechanical wiping alone.
Safe and Easy Maintenance
The latest safety features have been incorporated into the chamber. Automatic disconnects prevent operators from accidentally being exposed to UV light. The lamps can be replaced without de-pressurizing the chamber and since all electrical connections are located on one side of the lamp, replacement can be performed quickly.
System Characteristics
Lamp Type
Chamber
Flange Type
Installation

Cleaning

Automatic ActiClean™ dual-action cleaning
Electrical Requirements
Standard Voltage

480V, 3 Phase, 4 Wire + GND, 50/60Hz
UV Water Treatment - Cryptosporidium Barrier

Cryptosporidium is a harmful protozoa that can cause severe illness and even death in some individuals. Fortunately, this chlorine-resistant parasite can be easily inactivated with a low UV dose.

UV Water Treatment - Primary Disinfection

By employing UV as the primary disinfectant, the required chemical contact time can be reduced or eliminated (dependant upon local regulations).

UV Water Treatment - Multi-Barrier Strategy

UV is a perfect fit as an additional barrier in a multi-barrier strategy to provide additional public safety.

UV Water Treatment - Giardia Barrier

Giardia can be found worldwide and is one of the most common waterborne parasites. Low UV doses can inactivate Giardia without forming disinfection by-products.

Wastewater
Drinking Water
Environmental Contaminant Treatment
Contact Us
3020 Gore Road, London, Ontario
Canada, N5V 4T7
Office:

+1 (519) 457-3400

Office:

+1 (888) 220-6118

Fax:

+1 (519) 457-3030