Products
UV Systems for Advanced Oxidation
Chemical contaminants can be treated with UV (either alone or with an oxidant). Trojan has a family of reactors designed to treat chemical contaminants through UV-photolysis or UV-oxidation.
TrojanUV Environmental Contaminant Treatment Systems


We developed the TrojanUVPhox™ to provide municipalities with an energy efficient UV system that can perform UV-oxidation (an Advanced Oxidation Process [AOP] or Environmental Contaminant Treatment [ECT]) to remove trace environmental contaminants from the water such as volative organic compounds (VOCs).

The use of low-pressure amalgam lamps in the TrojanUVPhox allows the UV system to minimize power consumption and reduce maintenance requirements due to its long lamp life.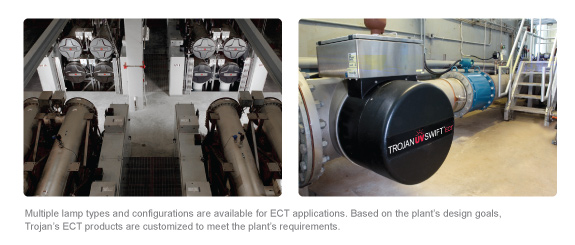 Other ECT applications include the treatment of taste and odor compounds in drinking water, especially after an algae bloom. The compact TrojanUVSwift™ECT is designed to operate in disinfection-mode throughout the year. However, during a taste and odor event, additional lamps are activated and hydrogen peroxide is added to perform UV-oxidation to eliminate taste and odor compounds.

Applications
Find out More
Contact us at +1 (888) 220-6118, or
email us
today.
---
TrojanUVFlex

Utilizing revolutionary Solo Lamp™ Technology, the TrojanUVFlex™ provides municipalities with the most energy-efficient delivery of high UV doses in an extremely compact footprint.

TrojanUVSwiftECT

The TrojanUVSwift™ECT is a hydraulically optimized, polychromatic lamp-based UV chamber for use in the treatment of environmental contaminants. It is suitable for removing contaminants from large flow rates within a compact footprint.

TrojanUVPhox

The TrojanUVPhox™ (UV-photolysis and UV-oxidation) solution is a groundbreaking, pressurized ultraviolet (UV) light chamber that utilizes Trojan's high-output, monochromatic amalgam UV lamps.

TrojanUVTorrentECT

The TrojanUVTorrent™ECT, equipped with revolutionary TrojanUV Solo Lamp™ Technology, is a low-pressure, high-efficiency system with high UV output. It's ideal for year-round treatment of chemical contaminants at high flows.
What are Environmental Contaminants?

There is a growing awareness of chemicals in the world's water supply. Recent research has shown that a wide variety of such chemicals exist at trace concentrations in streams, lakes, rivers and groundwater throughout the world.

Advanced Oxidation - Indirect Potable Reuse

The reuse of wastewater for augmentation of drinking water supplies (a process known as indirect potable reuse or IPR) is rapidly gaining support as a means of achieving a sustainable water supply and for protection against drought.

Seasonal Taste & Odor Treatment

When algae blooms die in late summer/early fall, chemicals such as geosmin and 2-methylisoborneol (MIB) are released causing water to smell and taste earthy or musty.

Advanced Oxidation - Contaminant Treatment

Water sources, groundwater and surface water, are increasingly impacted by contamination. With population pressures, climate change, and overuse making every water source important, water providers are increasingly looking to advanced treatment...

Advanced Oxidation - Groundwater Remediation

In many areas, localized releases of industrial chemicals, pesticides, petroleum additives such as MTBE, and fuel components such as benzene and hydrazine, have impaired groundwater quality. These groundwater "plumes" are commonplace...
Wastewater
Drinking Water
Environmental Contaminant Treatment
Customer Support
Product Support
We maintain a global network of service professionals ready to offer assistance for your service needs. ...
Find a Service Representative