Products
/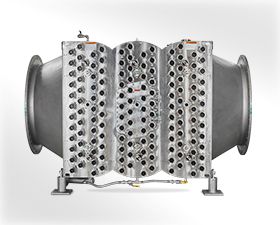 [+]
TrojanUVFlex
Utilizing revolutionary Solo Lamp™ Technology, the TrojanUVFlex™ provides municipalities with the most energy-efficient delivery of high UV doses in an extremely compact footprint.
Offering the latest advancements in system controls to optimize performance, operating costs and regulatory reporting, the TrojanUVFlex™ performs both UV disinfection and UV-oxidation.
Ideally Suited for Water Reuse & Drinking Water Treatment
The TrojanUVFlex™ is ideally suited for water reuse (potable and non-potable) and drinking water treatment (including destruction of chemicals such as 1,4-dioxane and disinfection of up to 6-log adenovirus).
Low Lamp Count, Reduced Maintenance, High Reliability, Compact Footprint
Powerful, yet highly energy-efficient 1000-Watt Solo Lamps lead to a low lamp count which, in turn, provides other benefits such as fewer associated components (e.g. lamp drivers and sleeves), reduced maintenance, highest reliability and an extremely compact footprint (40-50% that of other high-efficiency UV-oxidation systems).
An advanced control system automatically optimizes system outputs (e.g. energy use and oxidant concentration) while ensuring treatment objectives are met. Data on critical control points is available to demonstrate system performance for regulatory reporting.



---
A Compact Footprint – See the TrojanUVFlex™

Follow the journey of the TrojanUVFlex™ chamber to the underground drinking water treatment plant in Lichtenberg Berlin, Germany.
The TrojanUVFlex™ was the only product that fit through the space available – avoiding costly, disruptive and time consuming construction.
---
Low Lamp Count and High Electrical Efficiency
The 1000 Watt TrojanUV Solo Lamp™ combines the benefits of low- and medium-pressure lamps, providing unparalleled cost and maintenance advantages.
Compact Footprint
Optimized chamber design and modular TrojanUV Solo Lamp™ arrays enable cost-effective installation in extremely compact spaces.

Easy Operation & Maintenance
With fewer lamps, drivers and other associated components, maintenance is reduced and reliability is maximized.

Proven Components
UV sensors, sleeve wiping system, lamp connectors, drivers and panels have demonstrated reliability in our suite of TrojanUV systems.

Optional Sleeve Wiping
Mechanical sleeve wiping keeps quartz sleeves clean, removing fouling and ensuring that the maximum amount of UV light enters the water and is available for treatment.

Flexible Advanced Treatment
Can be designed for simultaneous UV disinfection and advanced oxidation – with either hydrogen peroxide or sodium hypochlorite.

Destroys Harmful Contaminants
Ideal for treatment of NDMA, 1,4-dioxane, and other chemical contaminants, producing water that meets or exceeds drinking water standards.

State-of-the-Art Controls
A smart, flexible control system optimizes energy use and oxidant concentration while ensuring UV dose and treatment objectives are being met.

Critical Control Points Available to Demonstrate Performance
Control System monitors, provides trending, and enables reporting of all regulatory requirements including UV dose, oxidant concentration and contaminant reduction.
System Characteristics
Lamp Type


TrojanUV Solo Lamp™ - Low-pressure High-output
Lamp Power
Lamp Driver


Electronic, variable power (30% to 100%)

Chamber Material


2205 duplex stainless steel

Flange Size


Optional 48 inch AWWA C207, DN1200
24 inch AWWA C207, DN600

Pressure Rating
Sleeve Wiping


Optional mechanical wiping

Network Connection

AB Ethernet I/P, ProfiNet, Profibus, Modbus TCP/IP, Modbus RTU RS485

Validation
UV Water Treatment - Cryptosporidium Barrier

Cryptosporidium is a harmful protozoa that can cause severe illness and even death in some individuals. Fortunately, this chlorine-resistant parasite can be easily inactivated with a low UV dose.

UV Water Treatment - Primary Disinfection

By employing UV as the primary disinfectant, the required chemical contact time can be reduced or eliminated (dependant upon local regulations).

UV Water Treatment - Multi-Barrier Strategy

UV is a perfect fit as an additional barrier in a multi-barrier strategy to provide additional public safety.

Advanced Oxidation - Indirect Potable Reuse

The reuse of wastewater for augmentation of drinking water supplies (a process known as indirect potable reuse or IPR) is rapidly gaining support as a means of achieving a sustainable water supply and for protection against drought.

Advanced Oxidation - Contaminant Treatment

Water sources, groundwater and surface water, are increasingly impacted by contamination. With population pressures, climate change, and overuse making every water source important, water providers are increasingly looking to advanced treatment technologies to restore contaminated sources.

Advanced Oxidation - Groundwater Remediation

In many areas, localized releases of industrial chemicals, pesticides, petroleum additives such as MTBE, and fuel components such as benzene and hydrazine, have impaired groundwater quality. These groundwater "plumes" are commonplace, and in many cases impact public water supplies or impedes the redevelopment of potentially valuable land.

UV Water Treatment - Giardia Barrier

Giardia can be found worldwide and is one of the most common waterborne parasites. Low UV doses can inactivate Giardia without forming disinfection by-products.


UV Water Treatment - Virus Barrier

There are a variety of viruses that may be present in water that, if not treated, may present a health risk to consumers. Examples include adenovirus, rotavirus, poliovirus, and coxsackievirus.
Wastewater
Drinking Water
Environmental Contaminant Treatment
Contact Us
3020 Gore Road, London, Ontario
Canada, N5V 4T7
Office:

+1 (519) 457-3400

Office:

+1 (888) 220-6118

Fax:

+1 (519) 457-3030