Products
/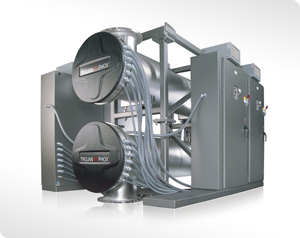 [+]
TrojanUVPhox
The TrojanUVPhox™ (UV-photolysis and UV-oxidation) solution is a groundbreaking, pressurized ultraviolet (UV) light chamber that utilizes Trojan's high-output, monochromatic amalgam UV lamps.
The TrojanUVPhox™ was designed to maximize efficiency - using 50%-90% less energy than other similarly sized UV chambers. Through the extensive use of computational fluid dynamics models and other computer simulation tools, it has been optically and hydraulically optimized to provide extremely efficient and cost-effective UV treatment.
Its unique design allows for the use of multiple reactors in series. This gives the TrojanUVPhox™ an extremely compact footprint, making efficient use of space in a water treatment facility.
When applicable, the chamber is integrated via control algorithms with a hydrogen peroxide delivery system in order to provide UV-oxidation. The hydrogen peroxide delivery system is part of the TrojanUVPhox™ solution.


---
Modular Compact Chamber
The chambers are modular and vertically stackable which allows for system expansion without increasing footprint. They were designed using computational fluid dynamics modeling and other advanced computer simulation tools to ensure optimum lamp spacing, uniform flow field, and significant efficiency advantages.
High-Output Amalgam Lamps
Trojan amalgam lamps deliver even, stable UV energy output over a wide range of water temperatures. The energy-efficient design reduces electrical costs, reduces reactor footprint and can operate past 12,000 hours.
Sophisticated Controls
The UV controls are integrated with the hydrogen peroxide system to ensure smooth operation with minimal operator involvement. Easy-to-use, digital interfaces are menu-driven for simple operation. The controls interface integrates seamlessly with plant SCADA.
Operator-Friendly System with Optional Sleeve Wiping
The optional sleeve wiping system ensures lamps deliver maximum UV energy for disinfection and UV-oxidation of contaminants. The sleeve wiping takes place while the system is online and operating – so there is no need to shut down or bypass the chamber.
System Characteristics
Number of Lamps


12 to 144 lamps per chamber

Lamp Type


High-efficiency, high-output, low-pressure amalgam

Sleeve Wiping


None
Automatic wiping system

Ballast


Electronic, variable output (60 to 100% power)
Reactor Chamber
Materials of Construction
Standard Flange Size (ANSI/DIN)


4 inches (100mm) to 20 inches (500mm)

Outlet Flange Orientation


3, 6, 9, or 12 o'clock position
Power Distribution Center
Electrical Supply


480V, 3 phase, 4 wire + ground
Other options available

Available Materials of Construction


Mild painted steel
304 stainless steel

Panel Rating

System Control Center
Controller

Advanced Oxidation - Indirect Potable Reuse

The reuse of wastewater for augmentation of drinking water supplies (a process known as indirect potable reuse or IPR) is rapidly gaining support as a means of achieving a sustainable water supply and for protection against drought.

Advanced Oxidation - Contaminant Treatment

Water sources, groundwater and surface water, are increasingly impacted by contamination. With population pressures, climate change, and overuse making every water source important, water providers are increasingly looking to advanced treatment technologies to restore contaminated sources.

Advanced Oxidation - Groundwater Remediation

In many areas, localized releases of industrial chemicals such as 1,4-dioxane and volatile organic compounds (VOCs), pesticides, petroleum additives, and other fuel components such as benzene and hydrazine, have impaired groundwater quality. These groundwater "plumes" are commonplace, and in many cases impact public water supplies or impedes the redevelopment of potentially valuable land.
Wastewater
Drinking Water
Environmental Contaminant Treatment
Contact Us
3020 Gore Road, London, Ontario
Canada, N5V 4T7
Office:

+1 (519) 457-3400

Office:

+1 (888) 220-6118

Fax:

+1 (519) 457-3030