Products
Wastewater UV Disinfection Systems
Trojan has a full suite of UV disinfection systems that can treat a wide range of flow rates and applications for wastewater treatment.
Our UV disinfection systems have been successfully installed to treat primary effluent, combined sewer overflow, secondary effluent, and tertiary reuse effluent.
TrojanUV Wastewater Disinfection Systems
Select Product Features
High Output UV Lamps
High output UV lamps allow Trojan's disinfection systems to be sized with fewer lamps. With fewer lamps and longer lamp life, the amount of time spent on maintenance is reduced. For large wastewater plants, the TrojanUVSigna™ is ideal. Features and benefits include TrojanUV Solo Lamp™ Technology, optimized power consumption and easy bank removal.
ActiClean
Trojan's municipal wastewater disinfection products have been designed to be simple to operate and maintain. Some of our UV systems include an automatic chemical/mechanical cleaning system called ActiClean™. This patented cleaning system removes fouling from the quartz sleeves, eliminates the need for manual cleaning and ensures maximum UV transmittance (UVT).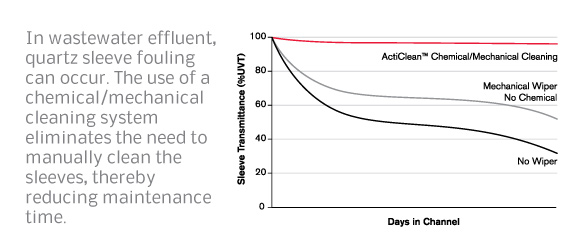 Find out More
Contact us at +1 (888) 220-6118, or email us today.
---
TrojanUV3000PTP - Robust, Dependable UV Disinfection for Small Wastewater Applications

A cost-effective, off-the-shelf solution for UV disinfection at small wastewater plants. It's simple to install and operate, and provides a hassle-free, dependable UV solution.

TrojanUV3000B - Simple, Reliable & Operator-Friendly UV Systems

Designed for small wastewater treatment plants that require a simple in-channel disinfection solution without chemicals.

TrojanUV3000Plus - UV for Medium and Large Plants

Designed for medium to large wastewater treatment plants and features the patented ActiClean Cleaning System, an automatic chemical/mechanical wiping system.

TrojanUV4000Plus

The TrojanUV4000Plus™ is the first commercially-successful, medium-pressure UV lamp system that's specifically designed for handling high volume and lower quality wastewater.

TrojanUVFit

Depending on site and design conditions, wastewater treatment plants producing filtered effluent sometimes prefer a disinfection solution using closed-vessel or pressurized UV reactors.

TrojanUVSigna

Chlorine is not the only viable disinfection option. With the TrojanUVSigna™, you can confidently choose UV and benefit from its inherent safety features, cost-saving advantages and disinfection performance.

TrojanUVFlex for Wastewater

Utilizing revolutionary TrojanUV Solo Lamp™ Technology, the TrojanUVFlex™ provides energy-efficient UV disinfection for modern wastewater reuse challenges.
Secondary & Tertiary Effluent UV Disinfection

The vast majority of wastewater treatment plants around the world provide secondary treatment through conventional activated sludge processes. Some plants have tertiary treatment processes that use an additional filtration process to further...

Chlorine Conversion to UV Disinfection

Chlorine gas has traditionally been used for wastewater disinfection for many years. Sodium hypochlorite (liquid bleach) is an alternative to chlorine gas; however, it is more costly and has the same environmental concerns.

Water Reuse with Ultraviolet Disinfection

The advanced treatment and reuse of wastewater (also called water reclamation), is becoming increasingly common as municipalities address high water demands and shrinking supplies.

Low Quality Water Ultraviolet Disinfection

UV disinfection has been proven effective in challenging applications such as combined sewer overflows (CSO), storm and sanitary sewer overflows (SSO), blended effluents as well as disinfection of primary-treated wastewater.
Wastewater
Drinking Water
Environmental Contaminant Treatment
How can we help you today?
Customer Support
Product Support
We maintain a global network of service professionals ready to offer assistance for your service needs. ...
Find a Service Representative