Products
/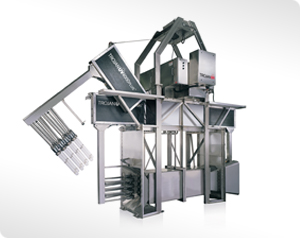 [+]
TrojanUV4000Plus
The TrojanUV4000Plus™ is the first commercially-successful, medium-pressure UV lamp system that's specifically designed for handling high volume and lower quality wastewater.
Incorporating ActiClean™ - Automatic Chemical/Mechanical cleaning technology, the TrojanUV4000Plus™ is the ultimate solution for a virtually maintenance-free system.
With over 375 installations – including some of the largest wastewater treatment plants in the world – the TrojanUV4000Plus™ is allowing engineers and operators to incorporate chemical-free, UV disinfection for large flows of 10 MGD (1,578 m3/hr) and greater in a minimal amount of space – with a fraction of the number of lamps required by low-pressure systems.
The extremely compact system can be used for low UV transmittance applications previously unattainable with ultraviolet technology. It also offers the flexibility to treat a wide range of wastewater; from primary, secondary and blended effluents to combined and sanitary sewer overflows to water for reuse applications.
Common Replacements Parts for the TrojanUV4000Plus
Lamps
# 441169-024, # 441169-028
Quartz Sleeves
# 441143-024, # 441143-028
Lamp Drivers
Wiper Seals
---
Designed for Challenging & Large Scale Applications
High intensity medium-pressure lamps provide effective treatment of very low UV Transmittance (UVT) effluent (as low as 15%) and large flows since the UV output is significantly higher than low-pressure lamp systems. Its footprint is significantly smaller compared to other low-pressure UV lamp systems or chlorine disinfection system (typically 1/8th to 1/15th of the space) due to the high UV output of the lamps.

Unsurpassed Chemical/Mechanical Sleeve Cleaning
The automatic chemical/mechanical sleeve cleaning system (also known as ActiClean™) eliminates sleeve fouling without disrupting the disinfection process, thereby reducing downtime and O&M costs.

Dose Pacing Reduces O&M Costs
The high-efficiency lamp drivers can vary the lamp power from 30 - 100% in order to match the required UV dose with the effluent quality and the flow rate. This allows plants to minimize their power consumption by dimming the lamps when the plant is operating at average conditions.

Design Flexibility Reduces Installation Costs
The reactor is designed for simplified retrofit into existing chlorine contact tank infrastructure, minimizing construction costs – and leaving the majority of the contact tank available for storage, by-pass or emergency back-up. Electronic lamp drivers are inside the modules, eliminating the need for large lamp driver panels mounted beside the UV channel. Furthermore, all system components can be installed outdoors - eliminating the need to build a climate-controlled building.
System Characteristics
Typical Applications


10 MGD and up; primary, secondary, blended, and tertiary wastewater, CSO, SSO, and water reuse

Lamp Type


Medium-pressure, polychromatic UV output

Lamp Driver Type


Electronic, variable output (30 - 100% power)

Input Power Per Lamp
Lamp Configuration


Horizontal, parallel to flow

Lamps Per Module
Modules Per Bank
Level Control Device Options


Fixed weir or motorized weir gate
Enclosure Ratings
Module Lamp Driver Enclosure
All Other Enclosures


TYPE 4, 4X or 3R (IP56, IP65 or IP14)

Lamp Driver Cooling Method


Closed loop system; no air conditioning or forced air required

Structural Materials


Wetted parts: 316 SST; Non-wetted parts: 304 SST

Maximum Ambient Temperature

Sleeve Cleaning System
ActiClean™ Cleaning System


Dual-action; chemical/mechanical; programmable for automated cleaning at defined interval; manual override

ActiClean™-WW Gel


Non-corrosive, operator-friendly, food-grade
System Control Center
Controller


Various PLC options; Ask your Trojan Representative for details

UV Intensity Monitoring
Inputs Required / Optional


4-20 mA flow signal / 4-20 mA UVT signal

Typical Outputs Provided


Bank status, common alarms and SCADA communication
Electrical Requirements
Power Distribution Center


277/480V, 3 phase, 4 wire + ground, 50/60 Hz
230/400V, 3 phase, 4 wire + ground, 50/60 Hz

Hydraulic System Center


120V, single phase, 2 wire + ground, 50/60 Hz
230V, single phase, 2 wire + ground, 50/60 Hz

System Control Center


120V, single phase, 2 wire + ground, 50/60 Hz
230V, single phase, 2 wire + ground, 50/60 Hz
Water Reuse with Ultraviolet Disinfection

The advanced treatment and reuse of wastewater is becoming increasingly common as municipalities address high water demands and shrinking supplies. Australia, Spain, Italy, California and Florida, to name a few, must balance increasing population growth, dry climates and heavy irrigation/agricultural demands.

Secondary & Tertiary Effluent UV Disinfection

The vast majority of wastewater treatment plants around the world provide secondary treatment through conventional activated sludge processes. Some plants have tertiary treatment processes that use an additional filtration process to further improve water quality. The resulting effluent typically requires a disinfection step before discharge back to the environment.

Low Quality Water Ultraviolet Disinfection

UV disinfection has been proven effective in challenging applications such as combined sewer overflows (CSO), storm and sanitary sewer overflows (SSO), blended effluents as well as disinfection of primary-treated wastewater.

Chlorine Conversion to UV Disinfection

Chlorine gas has traditionally been used for wastewater disinfection for many years. Sodium hypochlorite (liquid bleach) is an alternative to chlorine gas; however, it is more costly and has the same environmental concerns. UV disinfection can easily be retrofitted into an existing chlorine contact tank and has significant benefits compared to chlorine disinfection.
Wastewater
Drinking Water
Environmental Contaminant Treatment
Contact Us
3020 Gore Road, London, Ontario
Canada, N5V 4T7
Office:

+1 (519) 457-3400

Office:

+1 (888) 220-6118

Fax:

+1 (519) 457-3030