Products
/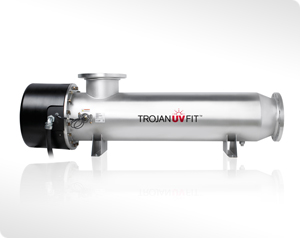 [+]
TrojanUVFit
Depending on site and design conditions, wastewater treatment plants producing filtered effluent sometimes prefer a disinfection solution using closed-vessel or pressurized UV reactors.
The TrojanUVFit™ offers an effective and energy-efficient closed-vessel UV solution. This compact reactor is available in multiple configurations to treat a wide range of flow rates. The streamlined hydraulic profile of closed-vessel systems disinfect filtered effluent without breaking head in the treatment process.
These benefits along with UV's ability to provide environmentally-friendly, chemical-free treatment for chlorine resistant microorganisms (such as Cryptosporidium and Giardia) make the TrojanUVFit closed-vessel solution an attractive option for wastewater disinfection.
Common Replacement Parts for the TrojanUVFit
Lamps
# 794447-0RD, # 794447-0GN, # 794447-0YW
Quarts Sleeves
Lamp Drivers (Ballast)

---
Shining a Light on Stormwater Video
Sherbourne Common is a stunning waterfront park in Toronto's East Bayfront community. It's the first park in Canada to integrate a UV facility for stormwater treatment into the actual design and architecture. This video shows where and how our TrojanUVFit was incorporated.
---
Regulatory-Endorsed Bioassay Validation
Performance data is generated from actual field testing over a wide range of flow rates and water quality (UV transmission).The bioassay testing conducted on the reactors offers peace of mind and improved public and environmental safety due to verified dose delivery – not theoretical calculations. For reuse applications in California, the California Department of Public Health (CDPH) has approved the 32AL50 model for Title 22 reuse applications and the remaining TrojanUVFit™ models are pending approvals. All validation testing was done in accordance with the NWRI/AWWARF UV Guidelines.
Compact Reactor for Installation Flexibility
The reactor's compact footprint simplifies installation and minimizes related capital costs. Lamps and sleeves are fully serviceable from the reactor end – allowing the system to be installed against walls, other equipment or piping. Multiple flange orientations are also available – increasing design flexibility.
Amalgam Lamps Require Less Energy
These energy efficient lamps only draw 250 Watts per lamp. They have been validated to provide 98% of the original UV output during entire lamp life – 20% less decline than competitive UV lamps.
Built for Reliable Performance and Easy Maintenance
Access to internal components (lamps, sleeves, cleaning system) can be done through the service entrance at one end. A safety switch automatically deactivates the reactor if the service entrance cap is removed - added protection for operators. To minimize O&M, the reactors have an automatic wiping system to maintain sleeve cleanliness and an intensity sensor continuously monitors UV output to ensure dose delivery.
System Characteristics
Number of Lamps


4 to 144 lamps per reactor

Lamp Type


High-efficiency, High-output, Low-Pressure Amalgam

Sleeve Wiping


Automatic Wiping System
(Optional Off-line Chemical Cleaning)

Ballast


Electronic, constant output (100% power)
Electronic, variable output (60 to 100% power)
Reactor Chamber
Materials of Construction
Flange Size (ANSI/DIN)


6 inches (150mm) to 20 inches (500mm)

Outlet Flange Orientation


3, 6, 9, or 12 o'clock position
Power Distribution Center
Electrical Supply


Various options available

Available Materials of Construction


Mild Painted Steel
304 Stainless Steel

Panel Rating

System Control Center
Controller
Typical Outputs Provided


Reactor status, common alarms and SCADA communication (others available)
Water Reuse with Ultraviolet Disinfection

The advanced treatment and reuse of wastewater is becoming increasingly common as municipalities address high water demands and shrinking supplies. Australia, Spain, Italy, California and Florida, to name a few, must balance increasing population growth, dry climates and heavy irrigation/agricultural demands.

Chlorine Conversion to UV Disinfection

Chlorine gas has traditionally been used for wastewater disinfection for many years. Sodium hypochlorite (liquid bleach) is an alternative to chlorine gas; however, it is more costly and has the same environmental concerns. UV disinfection can easily be retrofitted into an existing chlorine contact tank and has significant benefits compared to chlorine disinfection.
Wastewater
Drinking Water
Environmental Contaminant Treatment
Contact Us
3020 Gore Road, London, Ontario
Canada, N5V 4T7
Office:

+1 (519) 457-3400

Office:

+1 (888) 220-6118

Fax:

+1 (519) 457-3030