Products
/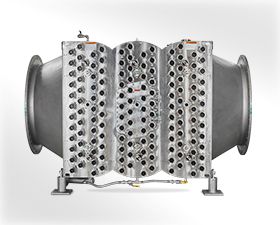 [+]
TrojanUVFlex for Wastewater
Utilizing revolutionary TrojanUV Solo Lamp™ Technology, the TrojanUVFlex™ provides energy-efficient UV disinfection for modern wastewater reuse challenges.
Offering the latest advancements in system controls to optimize performance, operating costs, and reporting, the TrojanUVFlex™ can help meet the stringent disinfection requirements demanded of treatment facilities distributing reclaimed wastewater.
Suited for Advanced Wastewater Treatment Around the World
The TrojanUVFlex™ allows for flexible design options to encourage wastewater reuse providers to design for worst-case performance conditions but also operate efficiently in real-time by minimizing lamp use and power.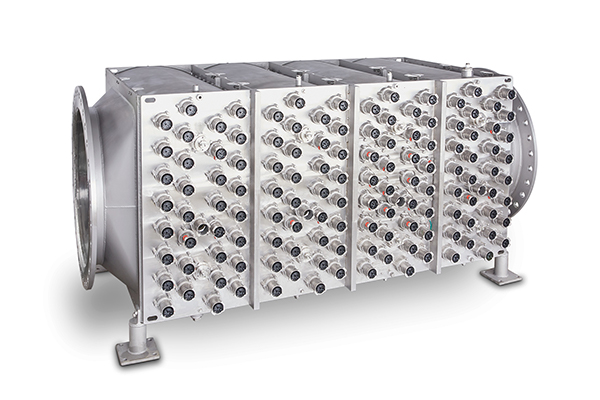 Efficient Operation & Easy Maintenance, With a Compact Footprint
Powerful and highly energy-efficient Solo Lamps lead to a low lamp count which, in turn, provides other benefits such as fewer associated components (e.g., lamp drivers and sleeves), and a smaller UV chamber, reducing footprint by up to 50% that of other low-pressure UV disinfection systems.
Lamps are installed perpendicular to flow allowing for individual sub-sections of lamps in a chamber to be turned on and off without causing "dead zones". This minimizes the number of lamps needed for treatment at a given time.

Advanced Solo Lamp drivers can also reduce ("dim") each UV lamp's output to 30% of its maximum output capability. These features maximize the range of UV-intensity outputs for a TrojanUVFlex™ system and provides end-users with dynamic and energy-efficiency UV disinfection for any treatment condition.
Application Flexibility
The TrojanUVFlex™ is also used in drinking water and advanced oxidation applications. Learn more about the drinking water system here and the advanced oxidation system here.
Common Replacement Parts for the TrojanUVFlex™
Lamps
# 908081-005, # 908081-007
Quartz Sleeves
Lamp Drivers (Ballast)
Wiper Seal
---
Low Lamp Count & High Electrical Efficiency
The revolutionary TrojanUV Solo Lamp™ combines the benefits of low- and medium-pressure lamps, providing low power consumption (1/3 the energy of medium-pressure lamps), low lamp count, long lamp life (>15,000 hours), and reduced maintenance.
Optimized Power Consumption
Banks of lamps are turned on/off based on UV demand. The advanced Solo Lamp™ driver enables lamp dimming from 100 to 30% power and has built-in diagnostic capability for easy troubleshooting.
Compact Footprint & Flexible Installation
The small chamber footprint simplifies indoor retrofit installations and reduces construction costs. Chambers can be installed either horizontally or vertically, making integration into existing piping straightforward and allowing service access from any direction.
Proven Disinfection Performance
Staggard, cross-flow lamp array – optimized through computational fluid dynamics – maximizes disinfection performance and increases system resilience with continued disinfection in the event of a lamp failure.
Mechanical Sleeve Cleaning
Without removing equipment or disrupting disinfection, the automatic sleeve wiping saves time and ensures the maximum UV output is available for disinfection.
Future Expandability
Chambers can be manufactured with additional banks to accommodate future treatment capacity or advanced oxidation capability Providing a solution that meets current requirements while planning for future needs.
Advanced Validation
Chambers are validated in accordance with the National Water Research Institute (NWRI) and United States Environmental Protection Agency's Ultraviolet Disinfection Guidance Manual (UVDGM). The TrojanUVFlex has been validated using water with as low as 45% UV transmittance (UVT).
System Characteristics
Lamp Type


TrojanUV Solo Lamp™ (low-pressure high-output)
Lamp Power
Lamp Driver


Electronic, variable power (30% to 100%)

Chamber Material


2205 duplex stainless steel

Flange Size


48-inch AWWA C207, DN1200
36-inch AWWA C207, DN900

Pressure Rating
Sleeve Cleaning


Optional mechanical wiping

Network Connection


AB Ethernet I/P
ProfiNet
Profibus
Modbus TCP/IP
Modbus RTU RS485

Panel Material


Painted mild steel
304 stainless steel
316 stainless steel

Validation

Water Reuse with Ultraviolet Disinfection

The advanced treatment and reuse of wastewater is becoming increasingly common as municipalities address high water demands and shrinking supplies. Australia, Spain, Italy, California and Florida, to name a few, must balance increasing population growth, dry climates and heavy irrigation/agricultural demands.

Secondary & Tertiary Effluent UV Disinfection

The vast majority of wastewater treatment plants around the world provide secondary treatment through conventional activated sludge processes. Some plants have tertiary treatment processes that use an additional filtration process to further improve water quality. The resulting effluent typically requires a disinfection step before discharge back to the environment.
Wastewater
Drinking Water
Environmental Contaminant Treatment
Contact Us
3020 Gore Road, London, Ontario
Canada, N5V 4T7
Office:

+1 (519) 457-3400

Office:

+1 (888) 220-6118

Fax:

+1 (519) 457-3030