Products
/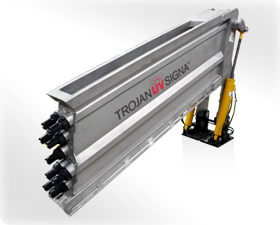 [+]
TrojanUVSigna
Chlorine is not the only viable disinfection option. With the TrojanUVSigna™, you can confidently choose UV and benefit from its inherent safety features, cost-saving advantages and disinfection performance.
Ideal for Primary, Secondary and Reuse Wastewater Applications
UV is the most effective, safe and environmentally friendly way to disinfect wastewater. It provides broad spectrum protection against a wide range of pathogens, including bacteria, viruses and chlorine-resistant protozoa such as Cryptosporidium and Giardia.
The TrojanUVSigna™ was the first large-scale wastewater disinfection system to utilize high-powered, high-efficiency amalgam lamps positioned in a staggered, inclined array. It incorporates innovations, such as TrojanUV Solo Lamp™ Technology, to reduce the total cost of ownership and drastically simplify operation and maintenance.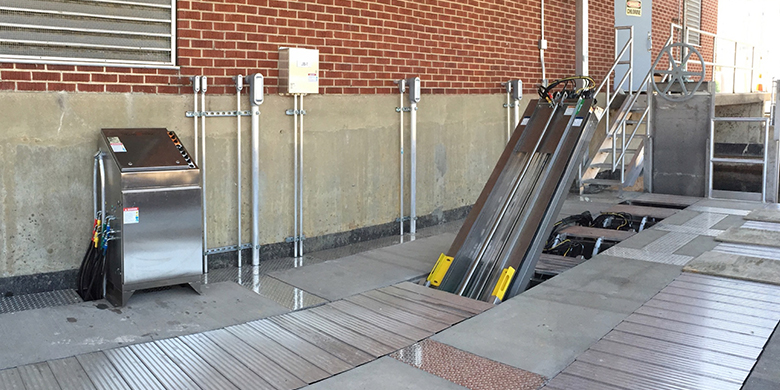 TrojanUVSigna banks are available in two-row, four-row and six-row lamp configurations. Shown here is the two-row configuration.
Chlorine Conversion Made Easy
TrojanUVSigna™ can be installed in an existing chlorine contact tank without major modifications to the channel depth or width. Gone are the days of time-consuming installations requiring new concrete walls with tight tolerances or stepped floors.
Common Replacement Parts for the TrojanUVSigna
Lamps
Quartz Sleeves
Lamp Drivers (Ballast)

Features and Benefits Overview
Water Level Management
Water level management in open-channel UV systems is a key design consideration. For maximum disinfection efficiency and safety, it's important that UV lamps remain submerged while operating and that the water depth above the top of lamp is within tolerance.
With the TrojanUVSigna™, the channel water level is managed using light locks in combination with the downstream water level controller. Light locks eliminate the need for complex channel designs.
What Our Customers Are Saying
Full Scale Pilot Trailer
A mobile pilot trailer is available for wastewater treatment plants that want to test the TrojanUVSigna™ with their effluent.
---
Low Lamp Count and High Electrical Efficiency
The 1000 Watt TrojanUV Solo Lamp™ combines the best features of low- and medium-pressure lamps.
Modular & Compact
UV banks are available in two-row, four-row and six-row lamp configurations, thus accommodating various channel depths.

Optimized Power Consumption
Banks are turned on/off based on UV demand. The advanced Solo Lamp™ Driver enables lamp dimming from 100 to 30% power and has built-in diagnostic capabilities for easy troubleshooting.

Simple Water Level Control
Light locks at each bank enable high tolerance to fluctuations in flow rates and water levels, simplifying water level control while maximizing disinfection.

Worry-Free Maintenance
Lamp change-outs and cleaning solution replacement are done while the UV bank is in the channel. And, thanks to the modular Power Distribution Center (PDC), components for one bank are isolated and can be safely accessed while other banks remain energized and disinfecting.

Less Time Spent Changing Lamps
Fewer lamps, long lamp life and easy change-outs save time and money.

Chemical and Mechanical Sleeve Cleaning
Without removing equipment or disrupting disinfection, the dual-action ActiClean™ system provides superior, automatic sleeve cleaning to prevent fouling.

Easy Bank Removal
Routine maintenance can be performed while banks are in the channel, but an Automatic Raising Mechanism (ARM) makes other tasks – such as winterization – simple, safe and easy.

Simple Retrofitting
Stringent tolerances on concrete channel walls are not required, making chlorine contact tank and UV channel retrofits simple and cost-effective. Retrofits can accommodate existing water level profile and head loss.
System Characteristics
Lamp Type


TrojanUV Solo Lamp™ (amalgam)
Lamp Driver


Electronic, high-efficiency (99% power factor)

Input Power Per Lamp
Lamp Configuration


Staggered, inclined array (two-row, four-row or six-row)

Module/Bank Frame
Ballast Enclosure
Lamp Control


30 - 100% variable lamp power (1% increments)

UV Intensity Sensor

1 per bank - with automatic cleaning

Bank Lifting Device

1 per bank - Automatic Raising Mechanism (ARM)

Level Control Device

Fixed or motorized weir gate

Water Level Sensor

High and low water level sensors available (one per channel)
Sleeve Cleaning System
ActiClean™ Cleaning System


Dual-action; chemical/mechanical; programmable for automated cleaning at defined interval; manual override
Water Reuse with Ultraviolet Disinfection

The advanced treatment and reuse of wastewater is becoming increasingly common as municipalities address high water demands and shrinking supplies. Australia, Spain, Italy, California and Florida, to name a few, must balance increasing population growth, dry climates and heavy irrigation/agricultural demands.

Secondary & Tertiary Effluent UV Disinfection

The vast majority of wastewater treatment plants around the world provide secondary treatment through conventional activated sludge processes. Some plants have tertiary treatment processes that use an additional filtration process to further improve water quality. The resulting effluent typically requires a disinfection step before discharge back to the environment.

Low Quality Water Ultraviolet Disinfection

UV disinfection has been proven effective in challenging applications such as combined sewer overflows (CSO), storm and sanitary sewer overflows (SSO), blended effluents as well as disinfection of primary-treated wastewater.

Chlorine Conversion to UV Disinfection

Chlorine gas has traditionally been used for wastewater disinfection for many years. Sodium hypochlorite (liquid bleach) is an alternative to chlorine gas; however, it is more costly and has the same environmental concerns. UV disinfection can easily be retrofitted into an existing chlorine contact tank and has significant benefits compared to chlorine disinfection.
Wastewater
Drinking Water
Environmental Contaminant Treatment
Contact Us
3020 Gore Road, London, Ontario
Canada, N5V 4T7
Office:

+1 (519) 457-3400

Office:

+1 (888) 220-6118

Fax:

+1 (519) 457-3030