Products
/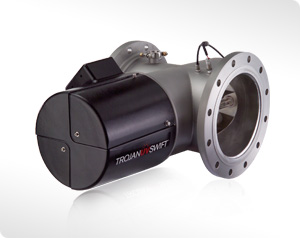 [+]
TrojanUVSwift
The TrojanUVSwift™ offers proven performance against waterborne pathogens including viruses, bacteria and protozoa. Our advanced systems meet disinfection targets with unsurpassed reliability with no known disinfection by-products.
Compact, Effective, Reliable UV Drinking Water System
This compact system has demonstrated its installation flexibility and effective, reliable performance around the world in hundreds of installations.
Available in multiple flange sizes, it is well suited to drinking water disinfection projects – new and retrofit applications – for a wide range of flow rates.
The TrojanUVSwift is also upgradeable to models designed to treat the compounds responsible for seasonal taste and odor events (e.g. MIB and geosmin) and other chemical contaminants. Known as the
TrojanUVSwift™ECT
(Environmental Contaminant Treatment), this UV system uses specialized controls in conjunction with hydrogen peroxide (H
2
O
2
) to cost effectively perform UV-oxidation.
Engineered and Built for Dependable Performance
The TrojanUVSwift requires a minimal number of lamps to treat a given flow, and is serviceable from one side for easy maintenance. It also incorporates innovative features to reduce O&M costs, including efficient, variable output, electronic lamp drivers and Trojan's revolutionary ActiClean™ system – the industry's only dual-action, sleeve cleaning system.
Common Replacement Parts for the TrojanUVSwift
Lamps
# 820392, # 820856, # 820777, # 820776
Quartz Sleeves
# 820087, # 820821-558, # 820195, # 820820-876, # 820432, # 820772
Lamp Drivers
# 915109, # 913262, # 913042, # 913939, # 913262

---
Smallest Footprint in the Industry
The chambers feature medium-pressure lamps - which means its compact footprint simplifies installation and minimizes related capital costs. The chamber is fully serviceable from one side – allowing the system to be installed tight to walls, other equipment or piping. The chamber was validated with a 90˚ elbow installed immediately before inlet to ensure consistent dose delivery – even under challenging hydraulic conditions created by upstream piping.
ActiClean™ Dual-Action Automatic Cleaning System
ActiClean™ provides on-line sleeve cleaning automatically while the system is disinfecting – eliminating the need and labor costs of taking the system off-line for routine manual. The combination of food-grade cleaning gel and mechanical action removes deposits on sleeves much more effectively than mechanical wiping alone.
Touch-screen Interface Allows Easy Operation and Monitoring
This PLC-based system controls all UV functions and dose pacing to minimize energy use while maintaining required dose. The controller communicates with plant SCADA systems for centralized monitoring of UV performance, lamp status, power levels, hours of operation and alarm status.
Upgradeable for Changing Requirements and Taste & Odor Control
Chambers can be configured to accept additional lamps after installation to cost-effectively meet increased capacity, system redundancy, or taste & odor (T&O) treatment requirements. The TrojanUVSwift™ECT, an upgraded system for Environmental Contaminant Treatment, acts as a barrier against microbial contaminants, as well as nitrosamines, endocrine disruptors, pesticides, and other chemical compounds.
System Characteristics
Max Flow Rate
UV Transmittance
Number of Lamps
Max System Pressure
Cleaning System


None
ActiClean™ Sleeve Cleaning System

Max Water Temperature

Chamber
Material
Flange Types


12" (300mm)
24" (600mm)
30" (800mm)

NSF Certification 60/61

Control Panel
Materials of Construction


Painted mild steel (gray)

Rating
UL&CE Certification
Ethernet Network Interface, Data Trending, Remote Modem

Electrical Requirements
Standard Voltage


480V, 3 Phase, 4 Wire + GND, 60Hz (Swift 12)
480V, 3 Phase, 3 Wire + GND, 60Hz (Swift 24 and Swift 30)
Other options available
UV Water Treatment - Cryptosporidium Barrier

Cryptosporidium is a harmful protozoa that can cause severe illness and even death in some individuals. Fortunately, this chlorine-resistant parasite can be easily inactivated with a low UV dose.

UV Water Treatment - Primary Disinfection

By employing UV as the primary disinfectant, the required chemical contact time can be reduced or eliminated (dependant upon local regulations).

UV Water Treatment - Multi-Barrier Strategy

UV is a perfect fit as an additional barrier in a multi-barrier strategy to provide additional public safety.

UV Water Treatment - Giardia Barrier

Giardia can be found worldwide and is one of the most common waterborne parasites. Low UV doses can inactivate Giardia without forming disinfection by-products.

Wastewater
Drinking Water
Environmental Contaminant Treatment
Contact Us
3020 Gore Road, London, Ontario
Canada, N5V 4T7
Office:

+1 (519) 457-3400

Office:

+1 (888) 220-6118

Fax:

+1 (519) 457-3030