Products
/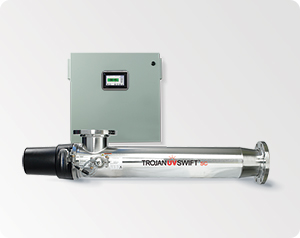 [+]
TrojanUVSwiftSC
The TrojanUVSwift™SC is a validated, compact UV system that offers communities an economical solution for drinking water disinfection.
Drinking Water Confidence for Communities
Designed to meet the needs of large and small communities, the TrojanUVSwift™SC offers communities an economical solution for drinking water disinfection.
The system is designed to treat flow rates of 20 gallons per minute (GPM) to 16 million gallons per day (MGD) / 4.5 to 2,525 m3/hr.
It's engineered and built to provide reliable performance, simplified maintenance, and reduced operating costs with innovative features like a hydraulically optimized, "L-shaped" chamber, high-intensity amalgam lamps and optional automatic or manual sleeve wiping.
Compact Footprint, Energy-Efficient Design
The TrojanUVSwiftSC's compact footprint simplifies installation and minimizes related capital costs – making it ideal for retrofit applications into existing water treatment plants. It is also engineered to fit into restrictive pipe galleries.
Providing Validated, cost-effective UV Disinfection
The TrojanUVSwiftSC is bioassay validated, having undergone rigorous DVGW and USEPA certification to ensure verified dose delivery, maximum public safety and peace of mind.
The validated dose range includes required doses for 4-log virus inactivation, determined using a high-resistance surrogate organism.
These efficient, robust UV systems offer a wide range of communities an efficient, economical solution for drinking water disinfection.
Common Replacement Parts for the TrojanUVSwiftSC

Lamps
# 794113, # 793010, # 794447-0YW, # 794447-0GN, # 794447-0RD
Quartz Sleeves
# 793075, # 792934, # 793024
Lamp Drivers (Ballast)

---
Compact Chamber for Installation Flexibility
The efficient chamber can be installed vertically or horizontally, increasing installation options. The lamps and sleeves are fully serviceable from one side – allowing the system to be installed tight to walls, other equipment or piping. The "L-shaped" chamber design is also 40% more efficient than "U-shaped" systems.
Bioassay Validated Performance
All TrojanUVSwift™SC units are certified for source water of various qualities, having been DVGW bioassay tested under a range of UV transmittances (UVT) and flow rates. Bioassay performance data for the TrojanUVSwift™SC line was generated under the worst-case orientation – with a 90° elbow at the inlet. Trojan also offers chambers that are fully validated to comply with USEPA's 4-log inactivation of viruses regulations, including the highly resistant adenovirus – all in a single unit.
Energy Efficient, High-Output Amalgam Lamps
The TrojanUVSwift™SC requires 1/2 to 1/3 fewer lamps to deliver the required dose compared to traditional UV systems using low-pressure lamps. With fewer lamps, the TrojanUVSwift™SC is compact and draw less energy than competitive high-output systems – minimizing capital and operating costs.
Robust Sleeve Wiping Systems
The automatic wiping systems minimize fouling of the quartz sleeves. The system operates online while the lamps are disinfecting, reducing downtime.
System Characteristics
Number of Lamps


2 to 30 lamps per chamber

Lamp Type


High-efficiency, high-output, low-pressure amalgam

UVT Range

Chamber
Materials of Construction
Max Operating Pressure PSI (Bar)
Max Fluent Temp °F (°C)
Sleeve Cleaning Mechanism (Model Dependent)

Sensors
Sensors Per Chamber


1 per 10 lamps, as per DVGW
1 per chamber, as per USEPA (available on D30)
Control Panel
Materials of Construction


Painted mild steel (gray)

Rating
Remote ON/OFF (24V - 280V) / Analog Output


Standard / 4 optional outputs (model dependent)

Intensity Pacing & SCADA Comm, Optional

Electrical Requirements
Standard Voltage


208 to 240 Volt, single phase, 2 wire + GND, 60 Hz L- L, 50 Hz L- N
Other options available

Ballast


Electronic, constant output (100% power)
Electronic, variable output (60 to 100% power) for some models
UV Water Treatment - Cryptosporidium Barrier

Cryptosporidium is a harmful protozoa that can cause severe illness and even death in some individuals. Fortunately, this chlorine-resistant parasite can be easily inactivated with a low UV dose.

UV Water Treatment - Primary Disinfection

By employing UV as the primary disinfectant, the required chemical contact time can be reduced or eliminated (dependant upon local regulations).

UV Water Treatment - Multi-Barrier Strategy

UV is a perfect fit as an additional barrier in a multi-barrier strategy to provide additional public safety.

UV Water Treatment - Giardia Barrier

Giardia can be found worldwide and is one of the most common waterborne parasites. Low UV doses can inactivate Giardia without forming disinfection by-products.


UV Water Treatment - Virus Barrier

There are a variety of viruses that may be present in water that, if not treated, may present a health risk to consumers. Examples include adenovirus, rotavirus, poliovirus, and coxsackievirus.
Wastewater
Drinking Water
Environmental Contaminant Treatment
Contact Us
3020 Gore Road, London, Ontario
Canada, N5V 4T7
Office:

+1 (519) 457-3400

Office:

+1 (888) 220-6118

Fax:

+1 (519) 457-3030