Products
/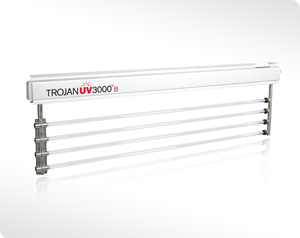 [+]
TrojanUV3000B
An operator-friendly, economical UV disinfection for small wastewater treatment plants.
Simple, Operator-Friendly Wastewater Disinfection Solution
The TrojanUV3000™B is straightforward to use and requires minimal operator involvement, thanks to modular design and robust components.
The system uses environmentally friendly UV light. No disinfection by-products are created and no chlorine compounds are transported, stored or handled by plant staff.
Outdoor Installation Flexibility
All components can be installed outdoors, eliminating the need and costs of a building, shelter and air conditioning for lamp driver cooling.
Well Suited to Changing Regulations
Our systems do not have any negative impact on receiving waters, making them a strategically sound choice for long-term treatment as regulations continue to become increasingly stringent.
Common Replacement Parts for the TrojanUV3000B
Lamps
Quartz Sleeves
Lamp Drivers

---
Advanced, Self-Contained UV Modules
Space-saving, electronic ballasts are housed right in the modules, not in separate external cabinets. This minimizes the footprint of the UV system and eliminates the need for air-conditioning. In fact, the ballasts are cooled by convection, thereby reducing O&M costs. Each UV module features a UV lamp status indicator for at-a-glance confirmation that all lamps are operating.
Flow Pacing Reduces O&M Costs
The System Control Center allows the TrojanUV3000B to be flow paced – meaning the UV lamps of individual banks are turned on and off automatically in response to variations in flow rate (based on a flow meter signal). Flow pacing maximizes operating efficiency by matching UV output to disinfection requirements, and reducing electrical consumption during periods of low flow by turning lamps off.
Installation Flexibility
The system can be easily retrofitted into existing chlorine contact tanks and effluent channels, and comes pre-tested, pre-assembled and pre-wired to minimize installation costs.
Regulatory-endorsed Bioassay Validation
Real-world performance data is generated over a range of flow rates and UV transmittances using surrogate organism (MS2).
System Characteristics
Typical Applications


1 – 5 MGD (158 – 789 m3/hr)

Lamp Type
Lamp Driver Type
Input Power Per Lamp
Lamp Configuration


Horizontal, parallel to flow

Module Configuration


4, 6 or 8 lamps per module

Bank Configuration


Up to 20 modules per bank
Channel Configurations
Lamp Banks in Series
Channel Options
Level Control Device Options


Automatic Level Controller or fixed weir
Enclosure Ratings
System Monitor/Control Center
Lamp Driver Enclosure
Lamp Driver Cooling Method


Convection; no air conditioning or forced air required

Installation Location

System Monitoring & Controls
Controller


Monitoring and bank control

UV Intensity Monitoring
Flow Pacing
Inputs Required


4-20 mA flow signal for Flow Pacing
Local Status Indication
Lamp Age (hours)
UV Intensity (mW/cm2)
Bank Status (on/off)
Low Intensity Alarm
Lamp Failure Alarm
Remote Alarms


UV Intensity (4-20 mA)
Common Alarm (discrete)
Electrical Requirements
Power Distribution


Power Distribution Centre

Quantity Required
Power Input


120V, single phase
208V, 3-phase
240V, single phase
Secondary & Tertiary Effluent UV Disinfection

The vast majority of wastewater treatment plants around the world provide secondary treatment through conventional activated sludge processes. Some plants have tertiary treatment processes that use an additional filtration process to further improve water quality. The resulting effluent typically requires a disinfection step before discharge back to the environment.

Chlorine Conversion to UV Disinfection

Chlorine gas has traditionally been used for wastewater disinfection for many years. Sodium hypochlorite (liquid bleach) is an alternative to chlorine gas; however, it is more costly and has the same environmental concerns. UV disinfection can easily be retrofitted into an existing chlorine contact tank and has significant benefits compared to chlorine disinfection.
Wastewater
Drinking Water
Environmental Contaminant Treatment
Contact Us
3020 Gore Road, London, Ontario
Canada, N5V 4T7
Office:

+1 (519) 457-3400

Office:

+1 (888) 220-6118

Fax:

+1 (519) 457-3030