Products
/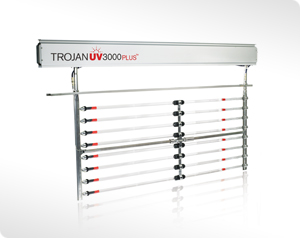 [+]
TrojanUV3000Plus - UV for Medium and Large Plants
Designed for medium to large wastewater treatment plants and features the patented ActiClean Cleaning System, an automatic chemical/mechanical wiping system.
UV is the most effective, safe and environmentally friendly way to disinfect wastewater. It provides broad-spectrum protection against a wide range of pathogens, including bacteria, viruses and chlorine-resistant protozoa (such as Cryptosporidium and Giardia).
Proven Industry Leader and the Standard in UV
The TrojanUV3000Plus™ is one of the reasons why UV treatment is now a standard technology in wastewater treatment. This highly flexible system has demonstrated its effective, reliable performance around the world. The system is well-suited to wastewater disinfection with varying flow rates and influents, such as combined sewer overflows, primary and tertiary wastewater reclamation and reuse.
Designed for Efficient, Reliable Performance
The TrojanUV3000Plus™ features Trojan's patented ActiClean automatic chemical/mechanical sleeve wiping system that further reduces operation and maintenance.
Long-lasting amalgam lamps and variable-output lamp driver optimize UV output to meet wastewater conditions and to maximize system efficiency, reducing operating costs by as much as 30% per year.
Common Replacement Parts for the TrojanUV3000Plus™
Lamps
# 302509, #794447-0RD, #794447-0GN, # 794447-0YW
Quartz Sleeves
Lamp Drivers
Wiper Seals

---
ActiClean Eliminates Sleeve Fouling
The dual-action, chemical/mechanical cleaning with the ActiClean system provides superior sleeve cleaning and reduces maintenance costs. Fouling and residue build-up on quartz sleeves reduces system efficiency. ActiClean maintains at least 95% transmittance, ensuring sleeves are clean and the system is consistently delivering accurate dosing while reducing power consumption. Cleaning occurs automatically while the lamps are disinfecting. There's no need to shut down the system, remove or bypass lamp modules for routine cleaning.
Amalgam Lamps Require Less Energy
Trojan's amalgam lamps produce significantly higher UV output than conventional low-output lamps, therefore fewer lamps are required to deliver the required dose, which reduces O&M costs. Trojan's high-efficiency lamps are validated to deliver 98% of full UV output after more than one year of use.
Advanced, Self-Contained UV Module
The electronic lamp drivers are housed right in the module, reducing the system footprint, minimizing installation time and costs, and eliminating the need for separate external cabinets since they are cooled by convection. The lamp driver enclosures are rated TYPE 6P (IP67) – air/water tight. The entire system can be installed outdoors to reduce capital costs - no building, shelter or HVAC is required.
Regulatory-Endorsed Bioassay Validation
The TrojanUV3000Plus has been thoroughly validated through real-world bioassay testing under a wide range of operating conditions. In-field bioassay testing offers the peace of mind and improved public and environmental safety of verified dose delivery – not theoretical calculations.
System Characteristics
Typical Applications


Wide range of wastewater treatment plants

Lamp Type


Low-pressure, high-efficiency amalgam (monochromatic)

Lamp Driver Type


Electronic, high-efficiency, variable output (60 to 100% power)

Input Power Per Lamp
Lamp Configuration


Horizontal, parallel to flow

Module Configuration


4, 6 or 8 lamps per module

Level Control Device Options


Automatic Level Controller, fixed weir or motorized weir gate

Water Level Sensor


1 electrode low water level sensor per channel
Enclosure Ratings
Module Frame/Lamp Driver Enclosure


TYPE 6P (IP68) / TYPE 6P (IP67)

All Other Enclosures
Lamp Driver Cooling Method


Convection; no air conditioning or forced air required

Installation Location

Sleeve Cleaning System
ActiClean™ Cleaning System


Automatic Chemical/Mechanical (optional)

ActiClean™-WW Gel


Non-corrosive, operator-friendly, food-grade
System Control Center
Controller


Microprocessor or PLC-based (Allen Bradley Standard Platform)

Analog Inputs (Typical)


Flow (4-20 mA) and UVT (4-20 mA)

Discrete Outputs (Typical)


Bank status, common alarms and SCADA communication
Electrical Requirements
Power Distribution Center


208Y/120V, 3 phase, 4 wire + GND, 60 Hz (Max. 8 modules per PDC)
480Y/277V, 3 phase, 4 wire + GND, 60 Hz
380Y/220V, 3 phase, 4 wire + GND, 50/60 Hz
400Y/230V, 3 phase, 4 wire + GND, 50/60 Hz
415Y/240V, 3 phase, 4 wire + GND, 50/60 Hz

System Control Center (stand alone)


120V, single phase, 2 wire + GND, 60 Hz, 1.8 kVA
220/230/240V, single phase, 2 wire + GND, 50/60 Hz, 1.8 kVA

Hydraulic System Center (for ActiClean™)


208V, 3 phase, 3 wire + GND, 60 Hz
380/400/415V, 3 phase, 3 wire + GND, 50/60 Hz
480V, 3 phase, 3 wire + GND, 60 Hz
or 2.5kVA HSC powered from PDC
Water Reuse with Ultraviolet Disinfection

The advanced treatment and reuse of wastewater is becoming increasingly common as municipalities address high water demands and shrinking supplies. Australia, Spain, Italy, California and Florida, to name a few, must balance increasing population growth, dry climates and heavy irrigation/agricultural demands.

Secondary & Tertiary Effluent UV Disinfection

The vast majority of wastewater treatment plants around the world provide secondary treatment through conventional activated sludge processes. Some plants have tertiary treatment processes that use an additional filtration process to further improve water quality. The resulting effluent typically requires a disinfection step before discharge back to the environment.

Low Quality Water Ultraviolet Disinfection

UV disinfection has been proven effective in challenging applications such as combined sewer overflows (CSO), storm and sanitary sewer overflows (SSO), blended effluents as well as disinfection of primary-treated wastewater.

Chlorine Conversion to UV Disinfection

Chlorine gas has traditionally been used for wastewater disinfection for many years. Sodium hypochlorite (liquid bleach) is an alternative to chlorine gas; however, it is more costly and has the same environmental concerns. UV disinfection can easily be retrofitted into an existing chlorine contact tank and has significant benefits compared to chlorine disinfection.
Wastewater
Drinking Water
Environmental Contaminant Treatment
Contact Us
3020 Gore Road, London, Ontario
Canada, N5V 4T7
Office:

+1 (519) 457-3400

Office:

+1 (888) 220-6118

Fax:

+1 (519) 457-3030